Hi Everyone,
Recently got a new video card (NVIDIA 1060 6gb) mostly for playing DCS World.
I believe this card is powerful enough for driving VR, so decided to give it a try with a makeshift approach as an alternative to Oculus
After some unsuccessful experimentation with DCS World and RiftCat (the NVENC streamer just eats up too much of the CPU and GPU power), I turned my attention to Condor and here is the my (overwhelmingly
) positive VR experience I would like to share with you:
Step 1.
Go to
http://dege.freeweb.hu/dgVoodoo2/dgVoodoo2.html
, download and install the latest version. Here is how the Condor folder and the DirectX tab in the DGVoodoo wrapper look after installation on my machine: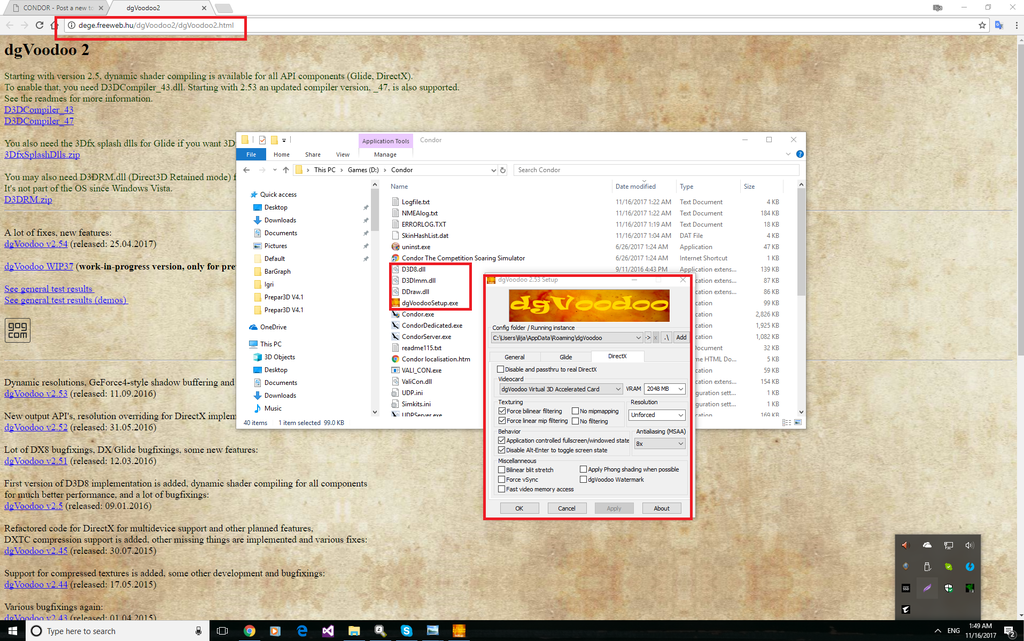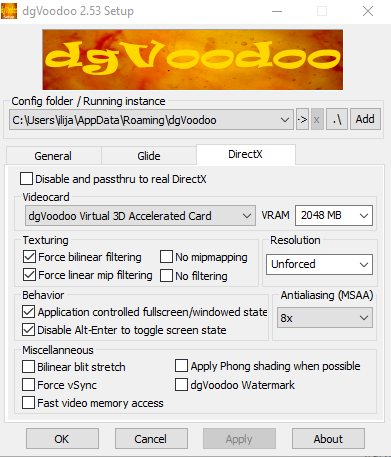 While I have been using the DgVoodoo wrapper with a previous AMD card to improve image quality with downscaling from higher resolution it was not really stable, but now I found it to work really great and support even higher resolutions.
Make sure that the settings are indeed using DGVoodoo and the game is not crashing while loading before proceeding any further:
Step 2.
Add custom display resolutions in the graphic card drivers with the appropriate aspect ratio of your phone = (width/2)/height.
On NVIDIA this can be done under change resolution: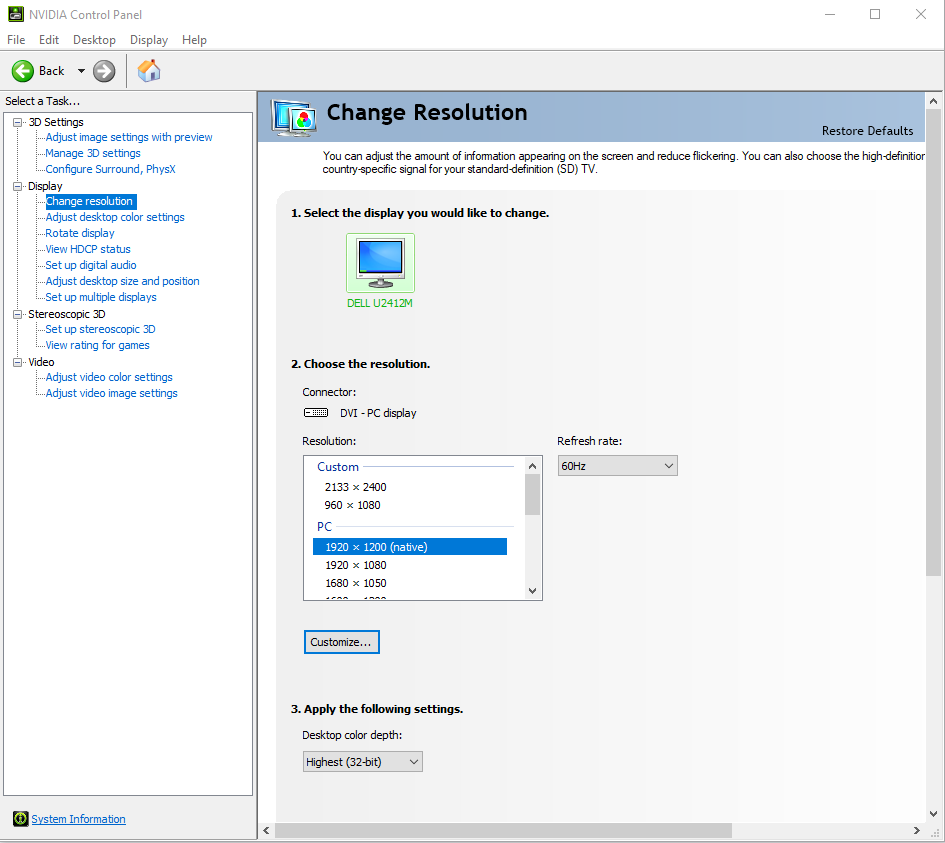 The maximum resolution possible in my case supported by the card and monitor was 2133 x 2400, but your experience might vary depending on brand and card model. AFAIK remember on AMD 270x it was not possible to set custom resolutions greater than the physical height of the screen.
Even if your monitor is the same resolution as the phone you must do the above step in order to keep the correct aspect ratio.
While 960 x 1080 will do the trick, the added benefit of the higher resolution is much sharper picture.
Step 3. (Optional)
If your card can handle it (60fps is the target), override and bump up all the quality settings in the drivers: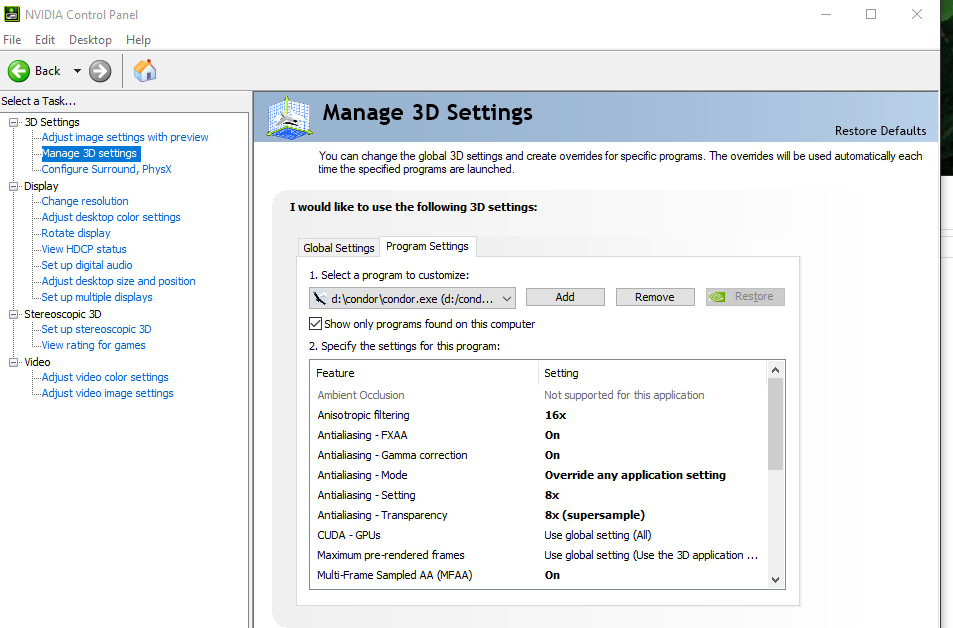 Taking into consideration the low res of the phones today, this will provide an even better image quality to the one above.
I'm sure than even much slower cards than 1060 will be capable of running Condor in stereo mode with 60fps.
Step 4.
Download
https://www.tridef.com/download/TriDef-3D-latest.html
This will actually transform the game into 3D stereo mode and it only works with DirectX 11 apps so completing step 1 is a must.
I'm using the demo version and will probably buy it, but want to try with the stereoscopic setting in NVIDIA tomorrow to see if they can achieve the same stereo output like TriDef .
Start the TriDef 3D app, select Play 3D Games, then add Condor in TriDef Ignition:
Step 5.
This step is specific to NVIDIA cards .
For AMD so you might have to use a different approach to stream the desktop to the phone.
I remember I was trying before with
https://www.splashtop.com/personal
and some others but the lag was not satisfactory for VR.
Enable Game Stream in GeForce Experience/Setting/SHIELD. Add TridefIgnition in the list of GAMESTREAM apps: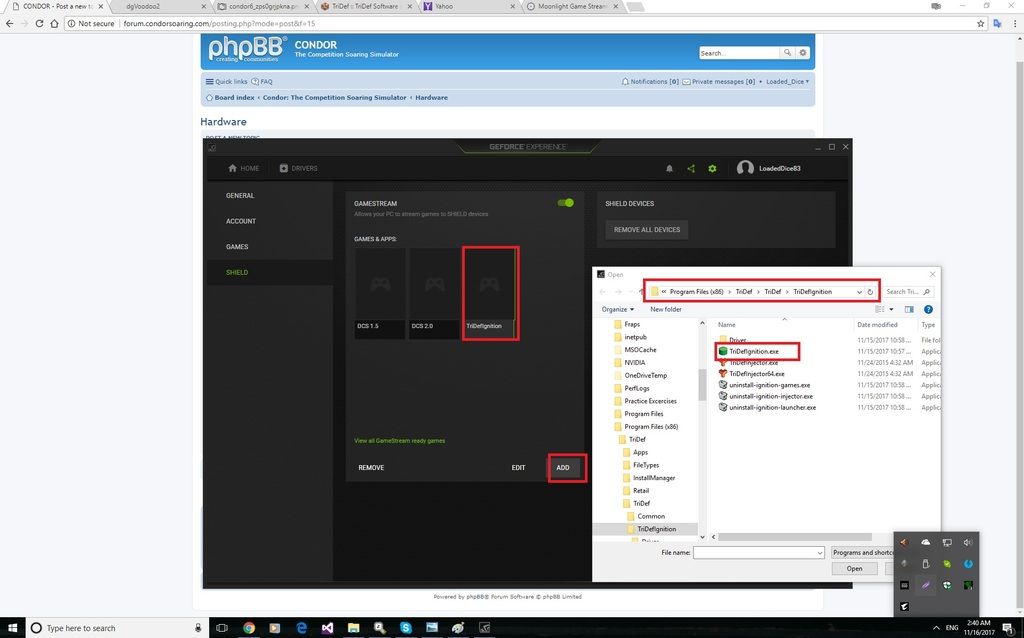 Install Moonlight app on your phone:
http://moonlight-stream.com/
Add exceptions for ports used by Moonlight to your firewall or discovery will not work.
Start Moonlight and add PC by IP or name.
Once you click the PC name the GAMESTREAM apps appear on the phone.
Select TridefIgnition, this will start Tridef Ignition on both PC and Phone.
Select Launch Condor and you are ready to start a flight.
Once you have completed these steps you should be able to get a lag free stream of stereo output from Condor on your phone
I cannot really describe the experience of flying Condor in VR in combination with FreeTrack and Zoom Tracker:
viewtopic.php?t=7560
other than extraordinary and really in a different league, but you can get a glimpse of the quality achieved from these screens: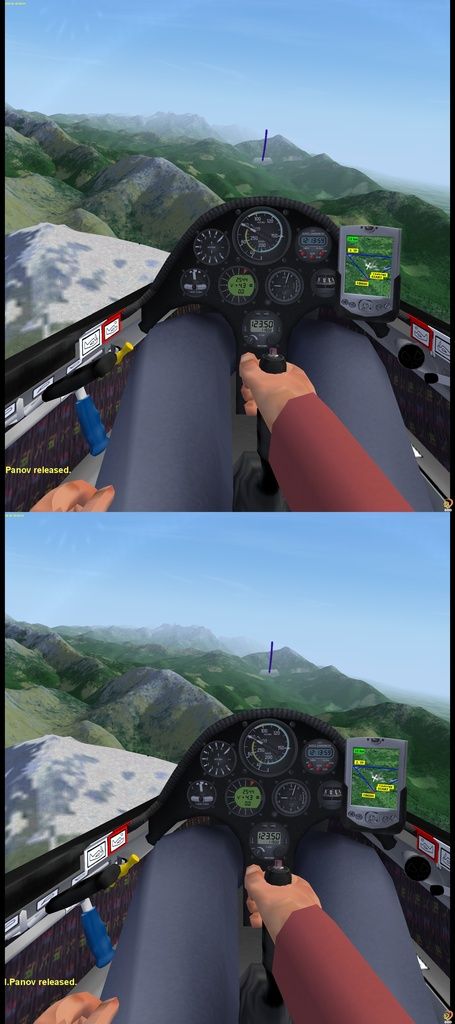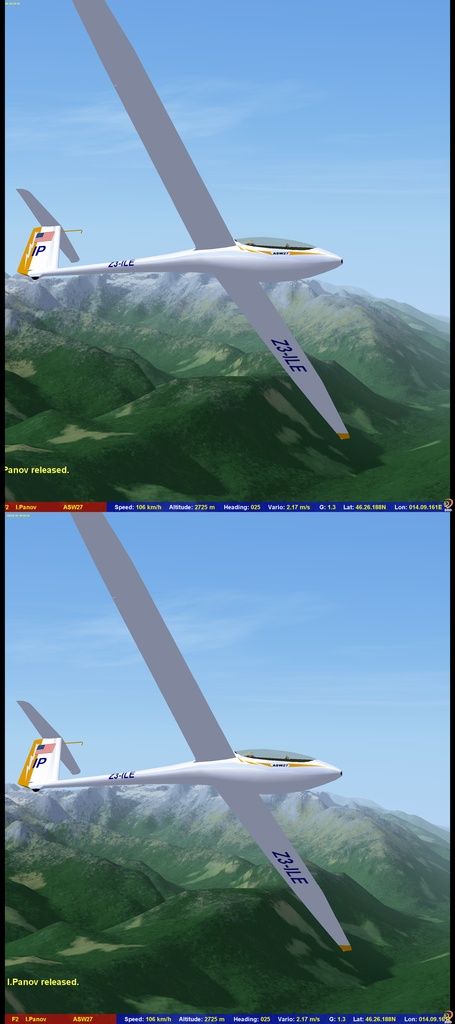 Even though I was using a simple Google Cardboard which has limited FOV and not very comfortable, the quality of the stream was great and lag free, the instruments and PDA were completely readable and most important I was getting constant 60fps the entire time
On the negative side I can only point out the limitation of Condor to a fixed FOV and the lack of 6DOF head tracking.
I would like to pay tribute to the developers for creating such a wonderful and farsighted application more than 10 years ago which is still able to accommodate the newest trends and developments in flight sim technology.
Off topic, I have never seen a better implementation of force feedback anywhere.
Guys, you definitely have my backing of Condor 2.0 and looking forward to an even greater native VR experience really soon